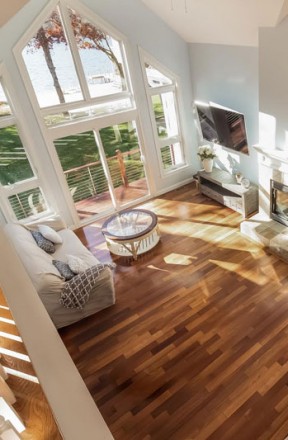 The Ultimate Entertaining Pond Front
4 Beds
•

3.5 Baths

•

4,083 SF

•

$900,000

445 Ship Pond Rd, Plymouth, MA 02360

Take a journey down the long, winding tree-lined driveway to this pond front oasis, never been offered before.
Escape the day-to-day hustle and enter into this welcoming custom-built 4,083 sq ft Colonial to sweeping views of Morey's Hole pond. Spread across 3.33 acres of land this home offers the best of both worlds - privacy delivered by the wooded lot and private beachside living right in your backyard!
When a home is built on the beloved and cherished formerly known Camp Child property you know it offers every amenity a pond front property should and more.
Are you ready to enjoy all the amenities of pond front living throughout each season?
Spend your summers swimming, fishing and boating with 174 feet of water frontage.  Soak in the summer sun on your private beach and watch as the sun sets beautifully across the water and the stars in the sky as they shine brightly in the summer night.  Bonfires, s'mores and good company will make for the perfect fall evenings.  The fun won't stop when the snow starts to fall.  Watch the kids ice skate and learn to ice fish on the frozen pond throughout the winter.  There is no lack of things to do or luxuries to enjoy at 445 Ship Pond Rd, the possibilities are endless.
This picturesque home will allow you to see the breathtaking water views each and every day from nearly every room in the house.
This is the ultimate entertaining home, whether for intimate small family gatherings or large summer parties, get ready to build memories that will sure last a lifetime.
Lower Level: The lower level of this home has fun written all over it.  From the custom sound system to the gaming and bar areas the activities are endless!  Offering a great layout to many different options for space and entertaining, this lower level is perfect.  Two sets of slider doors bring you to the brick patio and enjoy summer barbeques and all the fun that summer has to offer! Additional storage is available in both closet space and an entire storage room in the lower level.
Outdoor Entertaining: There is nothing this home doesn't offer.  From the brick patio, perfect for barbecues all summer long to lounging by the open fire at the large fire pit area the possibilities are endless.  The covered Mahogany deck with skylights and recessed lighting offers shelter so you can enjoy outdoor dining and lounging even in the summer rain!  The grounds of this property are expansive with 174 feet of water frontage and allows plenty of space for entertaining and play - no matter your age.
Walk down through the backyard to the private soft sandy beach with very gentle slope into water and get ready to catch some sun.  Take a dip in the pond or take the paddle boats or kayaks out for a spin.  Wake up and catch the sunrise from the boathouse, a two story building at water's edge with second story deck - an artist's dream!  Envision sitting high up above the pond watching the sun rise or set while painting the landscape of this beautiful property.  This is the perfect space for a studio of any kind!  End your day with a glass of wine on the dock after you've tied up you canoe.
Can you feel it yet?
Interior Features:
Wall of glass as you enter house looking over backyard with beach and water views

Wired Security & fire system.

Grohe solid metal plumbing fixtures, including 4 wall body sprayers and dual showers in master bath.

Full surround tile including seat in master shower.

Jacuzzi in master bath.

Lower level - Solid wood tongue & groove ceiling with cut in speakers and lighting throughout.

Solid hardwood doors, double sliders

Complete built in surround sound and separate ceiling speakers with 5 ceiling zones. Wall hung flat screen with build in media cabinet, everything in wall.

Separate heating and air conditioning zone.

Multi-Level Beach access
KitchenAid - Refrigerator, Double wall oven (convection), gas stove top w/ grill, (new) dishwasher & compactor.

Covered porch with skylights and recessed lighting.

Brand new cable railing system installed on Mahogany deck providing full unobstructed views.

65" Smart TV, in-wall wired in living room.

New Heating system including on-demand water and reserve tank

Master suite with direct water view & separate access door to sun deck.

Gas fireplace in living room.
Exterior Features:
Private long & winding driveway.

Complete irrigation system – two separate systems (18 zones).

Wonderful dock, great for fishing, jumping off & doing nothing but sitting.

Separate Two story building at water's edge with second story deck, great for beach gear storage on the first floor and an inspirational artist studio upstairs.

Electric dog fence surrounding lawn, including out into water around dock allowing dog to swim.

Large lawn with flat areas, great for sport games or large entertaining tent.

Covered Mahogany deck with skylights, ceiling lights and cable railings providing unobstructed views.

Perennial flower beds

Water spigot at beach for rinsing off or washing furniture etc.

Audio amp in waterfront building with outdoor speakers at beach.

Soft sandy beach with very gentle slope into water.

Incredible largemouth bass fishing in backyard

New England pond skating out your backdoor.

Quick access (using Old Sandwich Road) to Pinehills development and highway.

Stone Firepit area

Central Vacuum

Professionally installed landscaping

Mature plantings

Walking trails

Shortage shed

Bird watchers paradise
Dear Buyer,
Oh boy, if these walls could talk! We have had so much fun living here, raising our children, entertaining friends and family (even hosted a wedding here!). Honestly, just enjoying the everyday peaceful serenity the house and pond has to offer. The dual personality is certainly the best attribute of the home & property. When looking at the beach, the sweeping lawns, the fire pit, the covered porch, the open floor plan of the main level and the finished lower level space some will see a property designed for amazing entertaining. Others though, will see the secluded lawns, the fire pit, the covered porch, the beach, the dock hidden by reeds and the upper level of the waterfront building as quiet places to escape, far away from the stresses of the world.
So many neat spots, there are days it is difficult to decide where to have our morning coffee – the beach, the dock, upstairs at the boathouse, the front porch or the back porch (which is a GREAT choice on rainy days).
While you can't go wrong in the master bath with a nice Jacuzzi bath or a nice long shower with the multiple shower heads, you won't be disappointed in the kitchen doing the dishes either. While at the sink, you will experience the most beautiful sunsets and best placement of a heat vent …. ever!!
Our children have learned how to swim, kayak, paddle board, and fish in the backyard. They have learned how to respect the water, bait their own hooks and release the TONS of fish they have caught – sunfish, perch and lots of bass! In the winter, they loved to sled down the hill in the backyard and we snowshoed through the nearby walking trails. The years Mother Nature has cooperated and frozen the pond over, we have ice fished and had many days of good 'ole outdoor New England skating.
This area of Plymouth was once a Boy Scout camp called Camp Child. This house sits on the land where the mess hall once stood and the waterfront once had a huge dock where the scouts would have swimming lessons and hone their boating skills. We have heard many stories of those that spent their summer staying in the waterfront building, having no idea how good they had it. There are walking trails everywhere and some remnants of camping life as they knew it. There is a lot of cool history here!
We have gotten to enjoy being spectators of wildlife here – from the deer in the woods along the driveway, to the many birds we see daily around the pond. We have a flock of turkeys that frequent us almost daily, a great Blue Heron that lives on the pond (very cool to watch), frequent visits from two large swans, as well as birds that visit for a short time on their migratory route.
We will forever cherish the memories of joy this property has provided. Whether it be on the beach with toes in the sand, watching the kids play in the water, sitting around the fire telling stories, watching a game in the lower level, listening to the birds and soaking in the views from the upper deck, enjoying a meal with family & friends on the covered porch or the incredible feeling of peace we'd get from simply standing in front of a window, looking outside & taking it all in.
Though there is so much more to say, so many more examples of what this property means to us and the experiences our family has shared because of it. It is your time now; we sincerely hope you experience as much joy & peacefulness as we have!
Yours Truly,
Proud Owners of 445 Ship Pond Rd

SUSANA MURPHY
CEO, BROKER/OWNER

M: (508) 345-5632
Request A Showing or More Info: